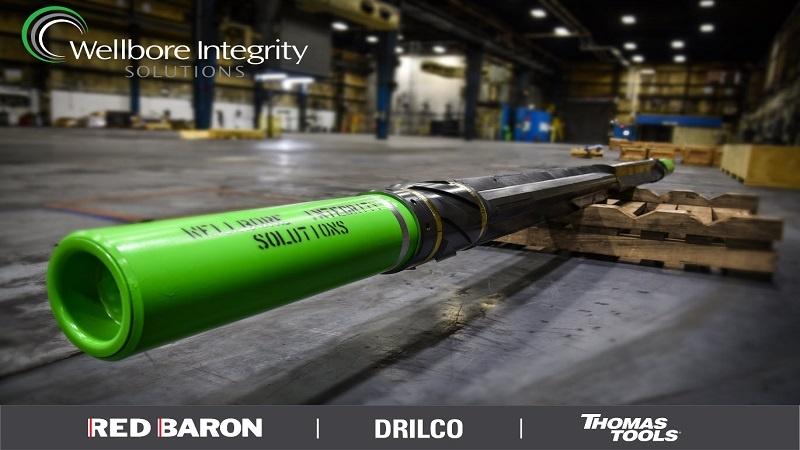 Wellbore Integrity Solutions (WIS) recently presented at the Offshore Well Intervention Gulf of Mexico (OWI GOM) conference, showcasing the service company's impressive portfolio of well abandonment and debris management solutions with its ProMILL™ technology and Heli-Mag™ , as well as highlighting its success in delivering a project in the Gulf of Mexico.
With WIS's extensive knowledge and industry experience of over 75 years, WIS brings together some of the most renowned brand names in wellbore integrity products and services; Red Baron, DRILCO, and Thomas Tools. Each showcases various capabilities from supporting drilling operations and production, to well intervention and well abandonment services. The Red Baron brand focuses primarily on well intervention services, including fishing and remedial for both open and cased hole projects; Wellbore Departure, which consists of sidetracking a wellbore by utilising the TrackMaster Select™ systems; Wellbore Cleanout Tools, which includes equipment such as the Heli-Mag inline magnet, ideal for debris management in multiple applications; Well Abandonment and Slot Recovery services utilising the ProMILL and ProMill Duo™ technologies, and Thru-Tubing Services for various tubular and wellbore projects. DRILCO provides global tubular products and services including field and in-house tubular inspection and repairs, along with manufacturing various drill pipe, whipstocks, fishing and well abandonment equipment. Thomas Tools specialises in rental equipment for special projects or additional assets to rig inventories including blowout preventers (BOPs).
With all the above available in WIS' arsenal, the company strives to present the broadest portfolio of services across the well lifecycle, a fact that was highlighted during the company's presentation at OWI GOM, detailing the importance of effective debris management in all projects concerning well intervention. Delaney Olstad, Well Abandonment Manager at WIS Red Baron, discussed how important the practice is, especially in recent years, in regard to making each project as safe and efficient as possible.
"Debris management is absolutely critical in terms of minimising HSE and operational risks. Studies have shown that debris in the wellbore can lead to premature failure of equipment, which can be both costly to the client in terms of downtime and equipment repairs," stated Olstad.
"I think it's also more prevalent nowadays than it has been in the past because the seriousness of downtime; some of these offshore operations are into the hundreds of thousands of dollars a day. And if there's downtime because you must deal with swarf, an incredible operation can come, basically, to a standstill because you must address the metal debris and shavings."
To further improve the practice of effective well abandonment, in 2016 the ProMILL technology was created. ProMILL is a single-trip system which allows operators to handle multiple operations, saving on the overall costs. The milling system combines a bridge plug assembly, section mill, and high-ratio underreamer in a single trip solution, which achieves rock-to-rock zonal isolation, and prepares the formation for an uninterrupted abandonment cement barrier.

"The introduction of ProMILL technology enabled rock-to-rock barriers that ensured the integrity of the abandonment process. The ProMILL system is a single trip BHA designed to reduce the number of trips necessary to meet the project and customer requirements," commented Olstad.
"In the long term, it is obviously essential that wells, which have been abandoned, are abandoned in a way which will prevent future leaks. The ProMILL has played an important part of that safe and reliable abandonment process."
Olstad also discussed the importance of creating a system which effectively and efficiently eradicates all potential leak paths during the P&A process, as even the tiniest gap can have disastrous and highly expensive consequences.
"When you abandon a well that means it has reached the end of its lifecycle, so you remove everything from the top side. You might put a marker there to identify the well location and you leave. If after a plurality of time, be it two years, 10 years, 20 years, or more, something changes and a hydrocarbon sneaks out, what do you do?" he said.
"To go back and re-enter the well, and re-abandon the well, is extremely expensive – sometimes 10-to-100 times more expensive – depending on where you are. If you're offshore, where was that well? It might leak and show up a mile and a half away, in any direction. That's why it's unquestionably crucial to do it right the first time and utilise equipment that can do it correctly. Being successful in a single trip is beneficial to everyone involved because it's less time on the rig and less cost associated with overall operations.
"The WIS Red Baron team focuses on completing our operations in a way which meet both the regulatory and project requirements, so that the well does not leak into our most precious commodities – the water and our environment."
Not only is WIS creating waves through the industry with its efficiency in eradicating leak paths, it is also making headway with its Wellbore Cleanout Heli-Mag technology; a downhole inline magnet which is used during milling operations to maximise debris recovery. The technology consists of 16 rows of rare earth magnets in a helical configuration which ensure that even the smallest pieces of swarf are removed.
In July 2022, WIS worked with KOSMOS Energy on a project in the Gulf of Mexico which required use of the Heli-Mag inline magnets were used in conjunction with the TrackMaster whipstock system to effectively recover debris as a large volume of cuttings were expected, causing concern about the amount of metal produced during a dual casing exit and having adverse consequences in the wellbore and the BOP stack.
"We ran nine of the Heli-Mag inline magnets close to the milling BHA above the heavyweight drill pipe so that they were in tension to capture all the swarf before it went up hole. But just in case any swarf did by we put one more just below the BOP. And by doing that, we captured 1,600 pounds of swarf on the first day," said Olstad.
"Overall, the Heli-Mags ended up bringing almost 3,000 pounds of swarf out of the hole. Less than 1% of the total amount of recovered debris, 16 pounds of swarf, made it into the rig's debris recovery equipment."
Impressive indeed. Looking to the future, Olstad discussed the importance of having a business emphasis on the significance of integrity within the wellbore, as the industry collectively works harder than ever to protect the environment. As our world becomes more fragile, the big players within the industry, including WIS, are emphasising the importance of making every process as sustainable and as safe as possible.
"This is our world, and we only get one, so it is of paramount importance that we strive to conduct ourselves and our actions as best as possible to preserve it and ensure the longevity of the operations, the environment, and humanity," Olstad concluded.