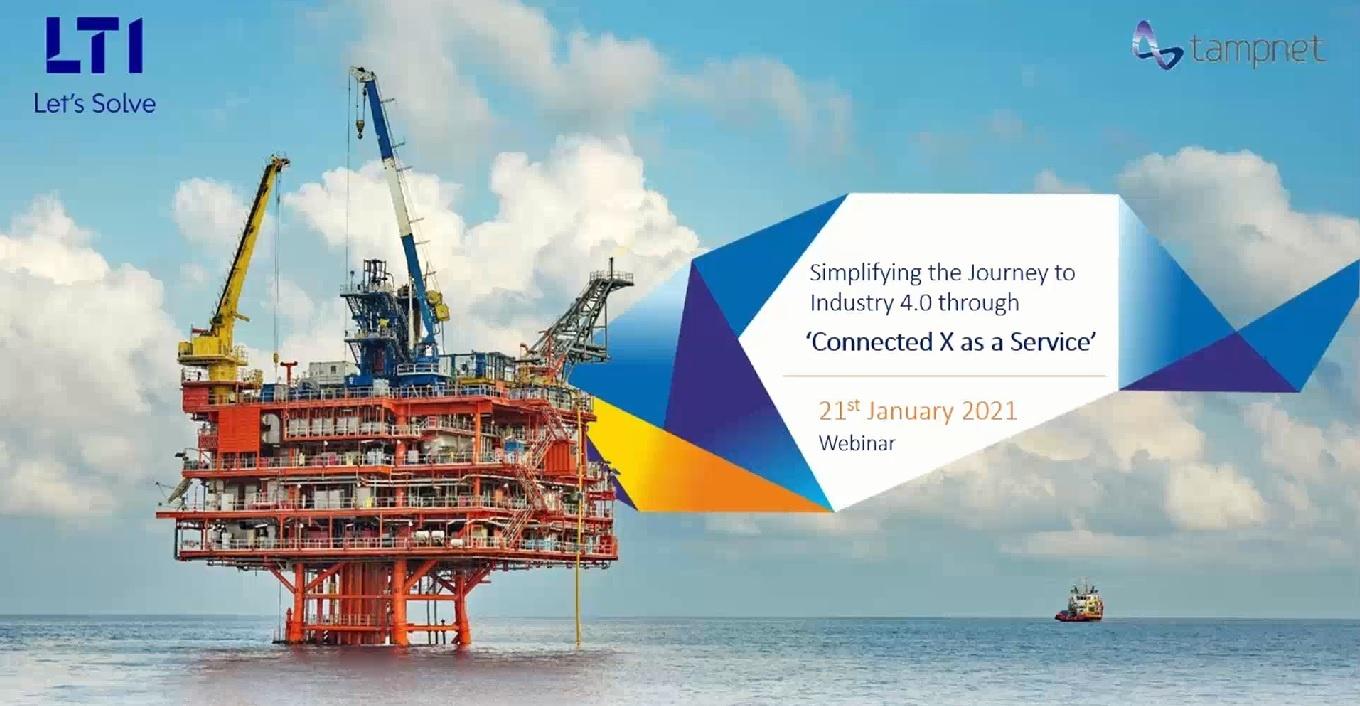 According to a recent PwC survey 90% of upstream companies have begun investing in digital initiatives and research by McKinsey suggests that 70% consider digital operations at the top of their operations strategy agenda. LTI and Offshore Network hosted a webinar entitled 'Simplifying the Journey to Industry 4.0 through "Connected X as a Service"', as Kartik Raman Iyer Head of Delivery of Indusrial IoT at LTI, and Frode Støldal, Chief Digital Officer at Tampnet, discussed the benefits of digitalisation that the upstream oil and gas industry has begun to recognise and identified connectivity as crucial step along this journey.
Connectivity as the key
Raman began by outlining that with new advances in technology the potential to transform and optimise business within the upstream oil and gas industry is enormous and one fundamental enabling factor has been the advancements made in communication technology.
Raman commented, "If you look at the oil and gas vertical, especially with operations whether onshore or offshore, connectivity has been a challenge all along. But with advancements in connectivity there lots of possibilities opening up in terms of digital interventions. All these used cases and innovations help bring in operational efficiency and also bring in efficiency from a workforce standpoint. This helps in accelerating the entire digital transformation journey. In terms of technology trends connectivity is the backbone but beyond that you have AI, automation and analytics as well."
Due to demand fluctuation, a current industry dynamic as a result of the pandemic, operators are increasingly seeking to strike the correct balance between production and demand, making visibility and quick action vital.
Raman continued, "Organisations need to be agile, nimble and flexible to really adapt to the changing market dynamics. Providing real time visibility of an entire operation allows necessary interventions based on insights you are getting in real time. Because of the advancement on the connectivity side there are lots of used cases emerging around convergence as well because now you have access to the right working data on the enterprise side and analytics is possible. Many of these insights you are getting will help you take decisions very fast."
Tampnet Infrastructure
For Tampnet, connectivity is everything, and Støldal outlined his company's role as planners, builders and operators of fiber that connects offshore assets. They have also now implemented mobile infrastructure that can extend around 50-60 km from each asset, which allows complete coverage of the entire value chain and enables faster communication along it.
He commented, "Latency is core of what we do at Tampnet, one of the reasons for this is we also have a carrier business where some of the most advanced customers in financial industry are customers of Tampnet. If you are doing trading you are obsessed with latency. So we try and assign the entire infrastructure to minimise latency."
Støldal added that the company also provides services to introduce complete coverage over the whole of an asset, regardless of size and complexity, so that there is a connection between different use cases, be them sensors, tablets or service containers. Together with DNV GL, Tampnet conducted a complete quality assurance test of the infrastructure at a Dutch site. Støldal said, "Feedback was very very good. The survey concluded that there was less safety exposure, no helicopter flight needed, no real travel needed, no offshore presence of a surveyor needed, smaller environmental footprint, efficient time and cost, and kept company assets compliant, safe and reliable. For business cases the improvements are quite significant."
Connected X as a Service
For a quick, simple and cost effective way to make the most of new connectivity technology and embark on the journey to Industry 4.0 Støldal and Raman recommended the Connect X as a Service. This has been developed to evaluate the range of new digital technologies on the market, provide comprehensive a assessment to identify where digital advancements can be made, and guide and maintain businesses along the path to digitalisation. To listen to the webinar recording exploring this service in more detail, click here.