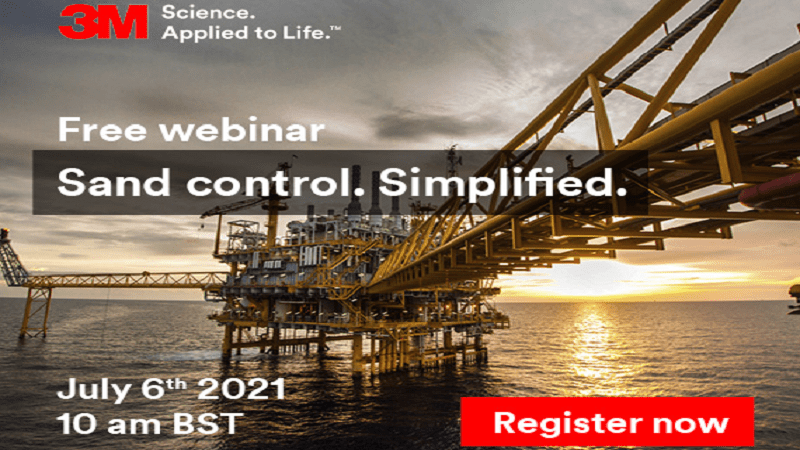 As part of the Offshore Well Intervention Virtual Offshore Well Intervention Europe Conference 2021, Charles Sanders, Business Development Manager at 3M, explained how 3M's Ceramic Sand Screen Systems can provide operators and service companies with a competitive advantage and better risk/reward profile for well intervention operations.
Sanders opened the session by describing the basic design of the ceramic sand screens. The equipment is made up of a perforated base pipe with ceramic rings placed over on top. These rings have ridges that create a profile and provide the sand control. The solution comes in modules of 1.5m length and is available in a range of different sizes.
Alongside a host of benefits, the ceramic sand screens have been designed to reduce and potentially nullify three main areas of risk: erosion, economic and reputational.
Explaining these, Sanders noted that because the through-tubing of the sand control solution has been designed with reduced tubing size there is a perception that it is therefore higher risk as it amplifies the erosional forces at previous economic flow rates. But this is only the case with standard screens using inferior material which are severely limited by their susceptibility to erosion. With such equipment, when dealing with erosive material, the operational velocity must be kept fairly low otherwise the well life can be greatly shortened.
By replacing the traditional materials with ceramic, which is highly resistant to erosion and corrosion, the root cause of these problems are addressed which completely changes the traditional rule of thumb to indicate whether a screen can be run.
Sanders commented, "The material change in our sand screens means we can push the intermediate boundary so that conditionals viewed as high risk with traditional materials are now low risk. We have deployed into harsh environments far and excess of what the rule of thumbs are. This will enable us and operators to be more competitive and change the risk/reward landscape."
A well that is producing to its full potential, unhindered by solids production, is a future revenue stream for both operator and service company. In this way the ceramic sand screen reduces the erosion risk, as explained; reduces the economic risk, by offering enhanced produce rates as well as limiting the cost of failure; and reduces reputation risk both on a corporate and personal basis, as 3M's proven track record with this technology means you can be confident when deploying it.

Ceramic Sand Screen case studies
To demonstrate the capabilities of the ceramic sand screens, Sanders guided the audience through three case studies where the technology has been deployed.
The first was covering an underperforming gas well in the North Sea where it was not feasible to do a frac pack. There were no sand management facilities on the platform and the estimated velocity in perforations was 100 ft/s. 3M deployed their ceramics sand screens for the frac operation at 3 screen joints using rigless on E-line single run through the riser. This resulted in no proppant flow back for all six sub sea and two platform well applications, high rates of 35 MMSCFD, and increased longevity of the well life with all still producing today with no sand control failure.
After this success, 3M wanted to deploy their technology to enter into different zones and were commissioned to provide a cost effective solution to maximise production from a well in a shallower zone with downhole sand control in Egypt. This well had high gas rates, high influx velocity and impingement velocity through short net target zone. Hot spotting was also a major concern. Ceramic sand screens were chosen to address these challenges, and via a rigless wireline deployment, they were placed across the perforation zone in two wells and two wells above the perforation zone inside the tubing. This added 15 MMSCFD of gas to the asset, achieved sand free production rates and the company subsequently reviewed the technology to replicate it as the primary sand control method in other applications. As a result of these benefits the operator was able to capture more than US$12mn in first year of average production.
Finally, Sanders described an example in Norway where the ceramic screen was used for OH SAS completions in high corrosive and high rate gas wells. The solution in this case was specifically designed to address client specific OH challenges. Once deployed the sand screens eliminated the technical challenges and risks of gravel packing HPHT conditions, reduced the operation risk and avoided the cost of pumping services. Subsequently, the well was able to achieve its target rate of 106 MMSCFD.
Sanders added that the velocity encountered on these wells (such as 100 ft/s at the North sea operation) was huge and something that could not even be considered by traditional sand screen methods and yet 3M's solution coped effectively and has even been tested in environments of up to 200ft/s. This represents a significant step change.
Sanders stated, "When you remove the risk perception the high risk opportunities open up. I have focused on erosional environments and benefits here but there is a whole range of advantages that this solution offer such as reduced operational complexity and HSE risks, proven productivity and minimised solids production, rationalising and standardising effective control design in the field, and can save you up to four to six times of CAPEX requirements over a conventional rig operation."
Concluding the session, Sanders offered the audience the opportunity to challenge 3M with their well sand problems which they would be happy to look into and address if they can. As Sanders added, "these don't solve every problem, but they sure do solve a lot of them and we would love to see how we can help deliver better performance for your assets or well intervention services."

Another opportunity to learn more
On Tuesday, July 6th 2021, 3M will be demonstrating in more detail how the Ceramic Sand Screen Systems can offer effective sand control and long term productivity for your wells in a free online webinar.
Starting at 10:00 am BST, 3M will discuss whether the current sand control practices used in oil and gas production contribute enough to meet productivity targets and energy policies, and explain how 3M's ceramic sand screens can eliminate the need for complex sand control methods. This will be followed by a Q&A session where you can ask your questions anonymously. If you register and can't make it to the webinar, a recording is available after the event.
To sign up, follow the link below:
https://engage.3m.com/CSSinOG_Digital-EN?utm_term=tebg-amd-oilgas-en_gb-edu-cssinog-one-web-na-register-5a-jun22-49661