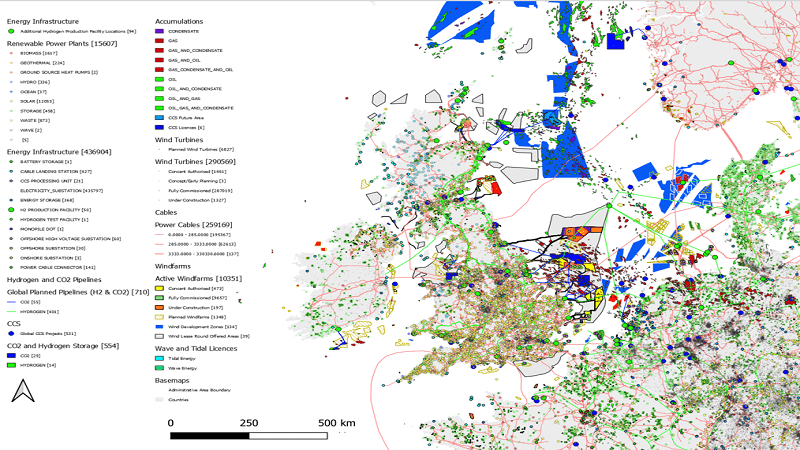 Isaac Kenyon, SpatialEnergy Data Analyst at MapStand, spoke to Offshore Network regarding his company's auspicious start when it launched just before the pandemic and how it has taken this adversity in its stride to help the oil and gas industry reap the benefits of data.
MapStand was created when Founder, Francis Cram, identified a major gap in the market while working at a small E&P business situated in the southern North Sea. Cram realised that one of the biggest frustrations for his company (and many others like it) was that while there were a lot of data providers available, all were very expensive and that all the free open source data was not together in one place. For many organisations it was therefore a nightmare finding easily accessible and affordable data to support their operations. With a view to changing this, Cram founded MapStand in order to build a product that brings in open source data from all around the world and make it available in one place a range of companies can easily access and utilise it, without having to pay fortunes.
Kenyon explained, "Different data providers such as governments have different data portals and these are all separate. MapStand's aim was to combine all of these into one place with no border dividers which makes life a lot easier, especially in regions such as the North Sea where there are a lot of different countries performing different types of activities."
The MapStand Community online platform provides global data coverage and is free for anyone to sign up, view and explore data sets. The multi-layered search feature allows company asset summaries and country overviews for E&P, Renewable Energy and Infrastructure insights.
"We have a lot of people who are excited about the product and want to support it which they do so by providing feedback in areas where we might not necessarily have as much data. They offer data they have produced or can point us in the direction of where to obtain it. A lot is therefore crowd sourced and in some areas we also get a lot of relinquishment reports from certain government agencies etc which helps to map these areas and show potential explorations prospects and leads for users," Kenyon stated.

Products serving the industry
Aside from the MapStand Community Platform the company also has two other main products which it has launched – the MapStand Hub and the MapStand Enterprise.
The Hub is a cloud-based web mapping area for clients which adds a lot more functionality such as collaborative real-time working within a online geospatial portal. "This is a geospatial workspace is where you can pull in data sets, manipulate them and create dashboards. You can drill down on data sets, filter attributes and more. Through the Enterprise subscription we are able to distribute our data layers into other companies' software and through APIs people can tap into our data sets and bring our data into their own products," said Kenyon.
The Newsfeed is a functionality of our app which may in the future turn into a product where users can get daily updated sources of company activity and announcements from the energy industry. Kenyon commented, "Platforms, infrastructure, etc in the database get tagged to the newsfeed and by clicking on these tags users will get taken to those objects on the map – allowing them to explore news in a different way."

Supporting the energy transition
Kenyon explained that the products aid oil and gas companies by providing up to date information on dispute management and territorial claims which is especially important when it comes to licences. However, MapStands solutions have been particularly useful in supporting the industry's fight against climate change – an issue which the company keeps close to its heart.
Kenyon noted, "A lot of oil and gas companies are looking to get involved in the energy transition and re-positioning to become energy integrated companies. For them, having the combination of renewable power data sets with oil and gas data sets is very useful. We can help to highlight opportunities around carbon capture storage, building windfarms to support activities, electrifying platforms, etc."
Collaboration is key for driving this energy transition and indeed the company, Kenyon continued. He added, "We want to scale up our energy transition collaborative efforts. Being able to work together to share data will help everyone reach their climate goals quicker and everyone will have an equal playing field know where things are and who is doing what/where. People can go on MapStand looking for opportunities and may see that there are lots of different projects nearby they have never even heard of which they could get involved in. One of our main ambitions is to promote collaboration and transparency, especially around energy data."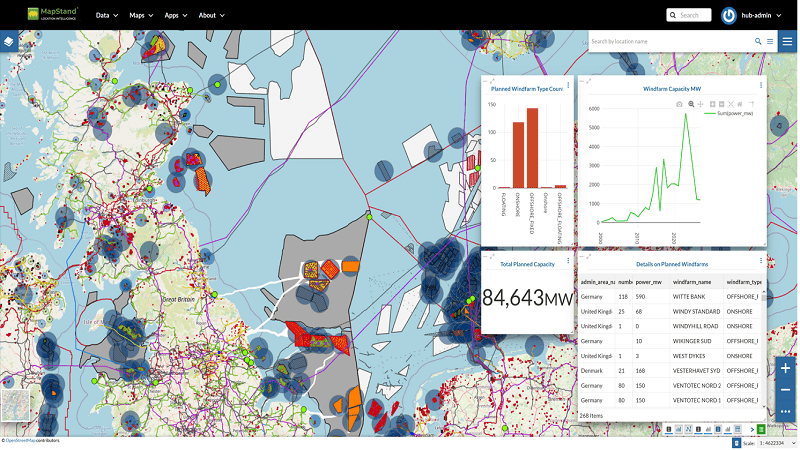 In for the long-haul
Launching just before the dawn of Covid-19 was unfortunate timing, however MapStand adapted well, re-considered their goals and now have an eye for expansion on the future. "Covid was hard-hitting on the oil and gas industry at the start and we pretty much launched straight into this. We had to scale back a bit on a lot of our ambitions but we have also pivoted and focused on the long-term to support the energy transition. In many ways the pandemic has helped drive this transition and we are looking to support this going forward. Our ambition now would be to scale up the data sets we provide."
"We are also trying to improve our products for users and are constantly working on automation and making our processes a lot smoother. Finally, we want to continue to grow our community. The larger we grow in terms of cliental and the more people signed onto our platform app the better our data quality will be worldwide," Kenyon concluded.
Find the latest update to MapStand here.