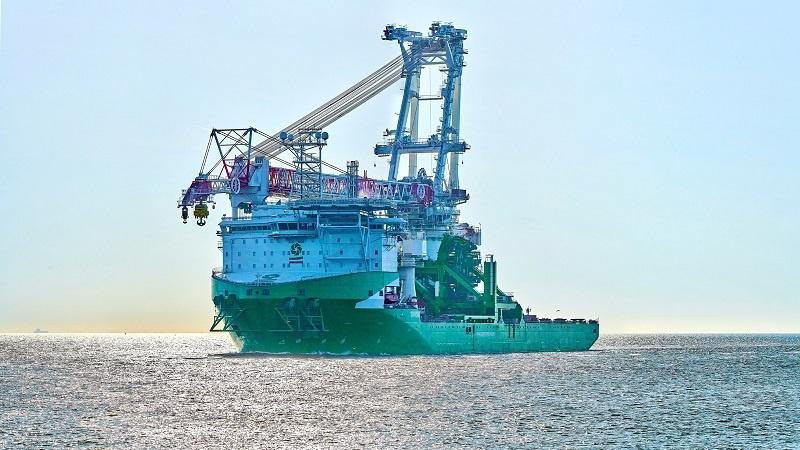 Liebherr has announced that its Heavy Lift Crane (HLC) 295000 is on board the Orion and is ready to work on decommissioning projects.
The Orion is a next generation offshore installation vessel by DEME which is capable of installing windfarms and decommissioning 'old' energy platforms. On the vessel, Liebherr has delivered the HLC which is the largest crane the company has ever built, boasting a lifting capacity of 5,000 tonnes.
After its name-giving ceremony in Vlissingen, Netherlands, the vessel is now heading to help develop the offshore wind farm 'Arcadis Ost I' in the Baltic Sea.
"What we are witnessing here, is indeed a very memorable event. Fundamentally, it demonstrates what is achieved, when people are closely working together, especially alongside with a competent and reliable partner. Today, we are proud. In an extraordinary effort, our team at Liebherr brought this heavy lift crane up on this ship so now everyone can see what has been accomplished," said Robert Pitschmann, Global Application Manager, Heavy Lift Offshore at Liebherr.
By the help of the compact design, the crane is destined to serve in the offshore market. For example the base column, being only 16.8 metres diameter, is unique in the market. The HLC 295000 requires little space on deck and offers more storage space for transportation. It is ready to take up its work in the ample field of the offshore industry. With its maximum capacity of 5,000 tons and an outreach of up to 151 metres, the HLC can manage large components, for example, during the decommissioning of offshore platforms.
A maximum lifting height of 175 metres enables the HLC 295000 to operate in the required height right away without special efforts. All this demonstrates that the heavy lift crane in general can be regarded as the ideal instrument for the challenges ahead within the changing field of energy production as well as in all related working areas closely related to it. The extraordinary efficiency, swift- and readiness when it comes to transporting, accuracy but also power give this Liebherr heavy lift crane and the HLC-Series an advancement due to its smart versatility.