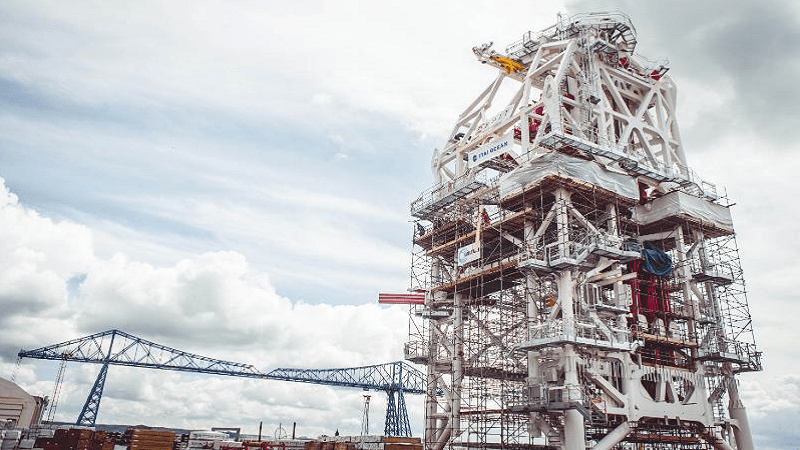 Offshore technology supplier Osbit Ltd has reached a key milestone in the assembly of a new well intervention tower system for FTAI Ocean.
The FTAI Ocean Smart Tower System now stands at 40 metres (its full height), after the top section of the tower on to the lower section was installed in a complex lift operation.
This involved hoisting the top section of the tower by crane and holding it in place on the lower section, while the sections were welded together. With the two sections joined together, the final fitout of hydraulic, control and electrical parts can now take place.

The FTAI Ocean Smart Tower System
The system, currently under construction at Wilton Engineering Services in the UK, will facilitate integrated riserless and riser-based well intervention operations on FTAI Ocean's flagship DP3 vessel M/V Pride. When completed, it will weigh 1,300 tonnes and be capable of operating in water depths up to 1,500 metres.
It integrates a series of innovations derived from Osbit's experience in developing well intervention and offshore handling equipment to improve operational safety, flexibility, and accessibility:
-The tower's vertical Open Water Intervention Riser System (OWIRS) racking system improves deck safety by reducing the need for access around the well centre to handle OWIRS joints, while its small footprint optimises deck space, for more effective equipment storage.
-The system integrates the existing vessel crane into the full deployment system, providing up to a 250-tonne active heave compensated capacity. Additionally, the system offers an active and passive heave compensated platform for building, operation, and recovery of OWIRS, and riser based or riserless intervention systems in 1,500 metres and 3,000 metres respectively. The heave compensated platform is able to support coil tubing, slickline and e-line operations and provides safe and efficient personnel access via an integrated walk to work system.
-The system is fitted with both guide wire and pod wire systems which, alongside the deck skidding system, minimises the need for crane lifts, increases operating windows and enables equipment to be directly loaded into the well centre.
-Also incorporated is Osbit's Integrated Logistics Support (Osbit ILS) software technology, which offers detailed data insight and asset performance analysis.
Steve Bedford, Director at Osbit, commented, "This system is the culmination of our extensive expertise and strong reputation in the design and build of cutting-edge well intervention and offshore handling systems. We remain committed to utilising our capabilities to support our clients in enabling safer and more efficient offshore operations."
"As a business, it is rewarding for us to see this world-class piece of kit successfully coming together and we are very much looking forward to delivering the completed system to FTAI Ocean."
Jon Attenburrow, Managing Director at FTAI Ocean, added, "This is a great achievement, for all involved in the design, build and assembly of the Smart Tower System, in these difficult times. We are pleased the build has been carried out safely and professionally to date, and look forward to the successful completion of the world class Well Intervention Tower."
To hear more from Osbit and industry experts on the latest technology and best practice relating to well intervention, be sure to attend the Offshore Well Intervention Europe Virtual Conference 2021 which is accessible via this link: https://www.offsnet.com/owi-eu/register.