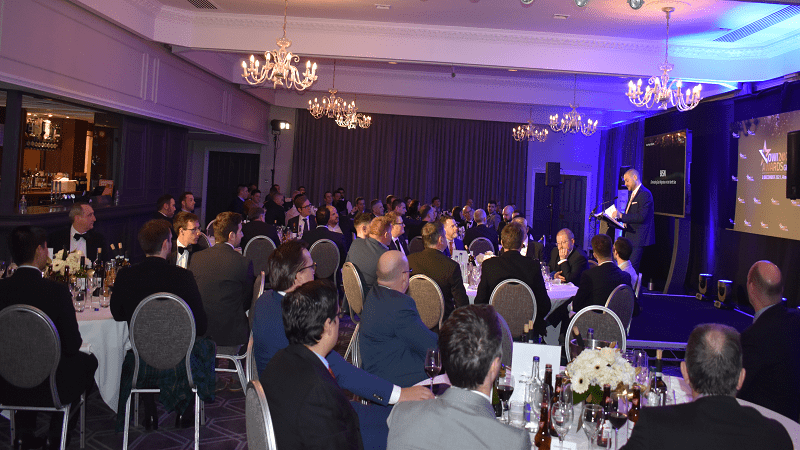 After a rigorous selection process by a panel of expert judges, on a night filled with celebration and laughter in Aberdeen, the winners of the Offshore Well Intervention Global Awards 2021 were finally revealed.
Spanning six separate categories, the awards recognised companies which had, across another incredibly challenging year, remained stalwart in their commitment to progressing the well intervention industry through creating new practices, evidencing new techniques and launching new technologies.
The OWI Awards 2021 winners:

Most Innovative Solution: Baker Hughes
Recognising that subsea wellhead removal from vessels can bring constraints and risks, Baker Hughes introduced the Terminator vessel-deployed, ROV powered subsea wellhead cutting system. This system includes a hydraulic motor, wellhead connector, and Hercules cutter in order to facilitate safe, efficient and cost-effective wellhead removals in a period of less than an hour for single cuts.
Using a mechanical cutter instead of AWJC methods, the Terminator system only requires two personnel to operate (6-8 are required for AWJC methods) and eliminates associated risks with high pressures, among other advantages.
The solution was deployed by Neptune Energy in the North Sea and was able to save the operator 6-12 rig hours while achieving no down time and no HSE issues.
Paul Stein, Commercial Director Subsea Intervention at Baker Hughes, said, "This award goes to the heart of Baker Hughes's values around Collaborate, Lead, Care and Grow. To achieve this recognition, the team touched on all four of these values. Huge congratulations to both Jarle Hvidsten and Dave Scott, together with the Terminator project team in making this happen.
Commenting on the next steps for the Terminator solution, Stein added, "Proving the technology is now doing more work for customers and broadening its utilisation across the globe."

Best Project Outcome: BiSN
BiSN was crowned victor of the Best Project Outcome for an outstanding campaign in the North Sea. The company was commissioned by AkerBP to set a final barrier within 30 wells to ensure a secure environmental solution so that the plugged wells did not emit pressurised gases. Due to the need to properly secure the well prior to the conductor removal, a non-permeable bismuth plug was placed inside the conductor to mitigate all risks for hydrocarbon migration from within the wellbore before the surface casing and conductor were removed.
The BiSN Wel-lok™ M2M technology was utilised for this campaign which was able to provide an environmentally safe gas tight sealing solution while reducing time, personnel and equipment required. The campaign was concluded ahead of schedule and all 30 plugs have been tested so that no emittance of gases will be detected, for perpetuity.
Colin Wooller, Global Head of Marketing at BiSN, remarked, "The whole team at BiSN appreciate the acknowledgment of winning such a prestigious award, it was truly a global effort with a very detailed testing programme completed at our UK and USA facilities in the two years prior to the start of the main campaign. Manufacturing of the tools were a separate challenge as these were the largest metal P&A plugs ever manufactured, weighing in at 15 tonnes. AkerBP provided support and technical input throughout the process, including obtaining approval from the Norwegian Petroleum Authority (PSA) to deploy the tools as a barrier, another major milestone in the acceptance of the BiSN products as a permanent P&A barrier.

"Building on the back of the PSA approval and with 300 tools now deployed across the globe, the next few years are packed with excitement for BiSN. We are leading the world in the deployment of bismuth-based alloy tools not just for P&A, but for a full range of completions and invention applications. Our research department also continues to develop new products including the soon to be launched Perf & Melt™ product that will revolutionise the P&A market again by bring the possibility of true rigless abandonment for the first time, with the elimination of section milling."

Best Example of Collaboration: Subsea Services Alliance
The Subsea Services Alliance, which combines the collective knowledge and strengths of Schlumberger and Helix Energy Solutions Group, has been named the best example of collaboration at the Offshore Well Intervention Global Awards 2021.
The non-incorporated collaboration was conceived to deliver integrated subsea intervention and decommissioning solutions to the offshore oil and gas industry in order to maximise economic recovery and lower costs.
The capability of the Alliance has been demonstrated in the delivery of the Q7000, an advance semi-submersible well intervention vessel. The vessel has been hard at work in West Africa performing campaigns for Exxon Mobil, Total and Chevron in Nigeria; successfully lowering POB, increasing operational efficiency and capturing value.
David Carr, Senior Vice President of Helix Well Ops, noted, "After 7 years of the Subsea Services Alliance, and almost 100 wells intervened by an integrated Helix/Schlumberger package, we are very pleased to be acknowledged by the industry."

HSE Innovation: FENNEX
FENNEX was recognised for its Behaviour-Based Safety Solution (BBSSTM) which addresses the challenges and complexities associated with end-to-end workflows governing the safety management in the offshore oil and gas industry.
Developed through the combination of deep-industry knowledge and cloud computing technologies the solution is engineered using AI and Machine Learning Technologies to allow the easy input of critical safety data into a collaborative cloud environment so that customised reports can be published in real time.
This enhances the visibility and transparency of critical trends of operations HSE risks and hazards across organisations, which was demonstrated through its implementation across Noble's global offshore fleet. In six months the BBSSTM delivered significant operational and sustainability efficiencies including a safer workplace, boosted engagement by 30%, and a reduction in programme cost by 70% – saving 15,000 man-hours and up to half million paper cards each year.
Nassima Brown, DIRECTOR of Business Strategy & Administration at FENNEX, remarked, "We are honoured to receive this prestigious award; to be recognised as a leader in breakthrough technologies to advance safety performance in the energy sector is a wonderful endorsement of our team's efforts and dedication to transforming the delivery of digital solutions for our industry.
"For a small tech company as ours, this recognition helps raise our profile, and provides us with an incredible industry exposure – shining a spotlight on the fantastic achievement that is possible through collaboration and strong partnership with our forward-thinking customer Noble Drilling."
Brown added, "Our ambition is to rapidly expand and scale up the application of BBSSTM within the energy industry, and play a part in transforming and optimising critical business processes to pursue excellence in safety performance, not only within oil & gas, but any high-hazard industry.
"We will continue developing state-of-the-art digital engineering capabilities and unique skills that will be critical to drive further business value, as the industry moves into a high-efficiency future. The BBSSTM technology is the blue-print that demonstrates the significant efficiencies that are realised through agile, scalable and cost-effective solutions, and we are strongly committed to forge further partnerships, and work together to accelerate more innovations."

Most Impactful Technology: 3M
As of October 2021, 3M has completed 125 installations of Ceramic Sand Screens for users and has maintained a manufacturing time of 6-12 weeks with variables such as size, quantity and shipping time to location.
INEOS initially contacted 3M as they wanted to fracture existing and newly drilled well stock in order to optimise production rates from a tight reservoir. For this scenario, solids control was critical and sand control ranking and selection required a cost-effective approach to sand free production over the well lifecycle.
3M responded with their Ceramic Sand Screens which were E-Line deployed in a single run through the riser system to 65° set depth. Once installed the company was happy to record no proppant flow back for eight wells in two fields and that well installations from 2014 are still producing to this day with no sand control failure. This innovative technology mitigated the need for costly surface solids separation packages, allowing INEOS to save significant costs.
Richard Jackson, Global Product Manager, Glass Bubbles & Ceramic Sand Screens at 3M, commented, "This award positions 3M's Ceramic Sand Screen Technology as a standard and simple sand control deployed technology extending the erosional boundary envelope from a traditional methodology approach. This technology enables further value creation of optimised productivity return Operator's request, especially in these uncertain markets.
"3M is in the process of launching its Next Generation Portfolio and associated technical and commercial quick check tool, building on its experience to further partner, support and deliver the needs of the sand control market, both in intervention and new well (cased and open hole) applications."

Most Significant Contribution to the Industry: AME Pty Ltd
AME Pty Ltd was named winner of the prestigious awards for its Colossus In-Line String Compensator – a portable passive heave compensator that is fully self-contained and can be easily rigged up in an existing derrick to supplement or replace the rig heave compensation system.
The Colossus ILS' sleek and functional design minimises hang-ups and clashes with hoses and cabling; requires no intervention during operations; and provides essential monitoring data directly back to AME operators and driller. Together with the Modular Tension Lift Frame it forms a primary passive compensation solution catering for well intervention, completions and well testing on board floating MODUs.
The benefits of this combined offering, such as the ability to consolidate equipment on deck to reduce the required footprint prior to and after operations and the fact that they can be rigged up and run by the drill crew with one single AME Specialist required on each shift, was enough to clinch the victory for AME at the awards ceremony in Aberdeen.
Lara Marmion, Project Engineer at AME Pty Ltd, said, "Winning this award is an honour for AME. We are proud to have been recognised by our peers as having made a significant contribution to the global well intervention industry.
"Due to an increased demand for the ILSC and AME's other specialised equipment, we are currently in production building more equipment & expanding the fleet. AME continues to grow, having recently opened an office in Melbourne, Australia, and we look forward to returning to Norway when travel arrangements permit."
The OWI Awards will return in 2022 to celebrate the best of the well intervention community. To stay informed regarding submitting nominations, joining the judging panel, attending the awards or hosting reach out to Isobel Singh:
Email: This email address is being protected from spambots. You need JavaScript enabled to view it.
Phone: +44 (0) 203 409 3043