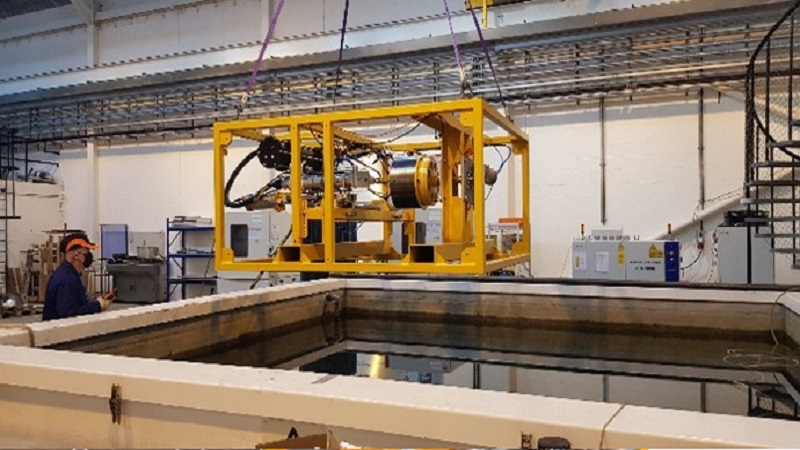 Claxton, the University of Aberdeen, the National Decommissioning Centre and the Net Zero Technology Centre (which is providing funding and oversight), have continued to move ahead in the delivery of the Underwater Laser Cutting (UWLC) system, an alternative and clean underwater cutting technology ready to take the decommissioning market by storm.
UWLC improves efficiency when used for downsizing activity or applicable subsea decommissioning scopes and offers the flexibility of deployment methods in storage ponds, tanks and offshore. It was noted by the partners that the technology has the potential to 'revolutionise' subsea cutting.
The initial phase of the partnership, delivered between 2019 and 2021, saw the development of the UWLC system targeted at delivering offshore cutting trials in 70 metres seawater depth. The Net Zero Technology Centre funding supported partners in the development of underwater capable optics; the design and manufacturing of an underwater laser cutting head; procurement and packaging of a 15KW laser generator for offshore operations; and design and manufacture of control system software and hardware suitable for 50 bar hyperbaric conditions.
Successful delivery of this phase was demonstrated through subsea cutting performed at 70 metres seawater depth. This included 250 underwater cuts performed on structural steel up to 120 mm thick; Human Machine Interface (HMI) and 500 metre depth capable electronic control system; the design and manufacture of 500 metre depth rated subsea laser cutting head; and the system verified at technology readiness level 6 and suitable for further development.
The next phase of the partnership is planned for 2023-24 and involved the development of the UWLC system targeted at delivering a cutting tool suitable for real offshore cutting scope. The Net Zero Technology Centre will provide funding once again for this stage and a Tier 1 oil and gas producer and vessel operator will also contribute.
This phase will include a selection of suitable cutting opportunities; the development of the laser cutting head through the incorporation of lessons learned from phase 1; the development of a cutting tool to manipulate the laser cutting head to suit the cutting scope; and the integration of the HMI and electronic control from phase 1 into the intelligent cutting tool to optimise cutting head manipulation and performance.
The success of the second phase will be measured by performance on an actual offshore cutting scope against typical mechanical or abrasive cutting solutions. The objective is to demonstrate the system as a proven cutting technology for suitable applications, with the system being verified at technology readiness level 7 and suitable for further commercialisation.
"It is fantastic to be involved in such a great partnership and work with an inspiring team on this development project," commented Craig Baxter – Decommissioning Technical Manager, Claxton. "The technology is showing great promise in delivering cross sector decommissioning work scopes. I am looking forward to delivering an offshore decommissioning work scope through 2023 with a view to commercialising the technology and opening it up as a cutting solution available to the oil and gas, nuclear and offshore wind decommissioning market."