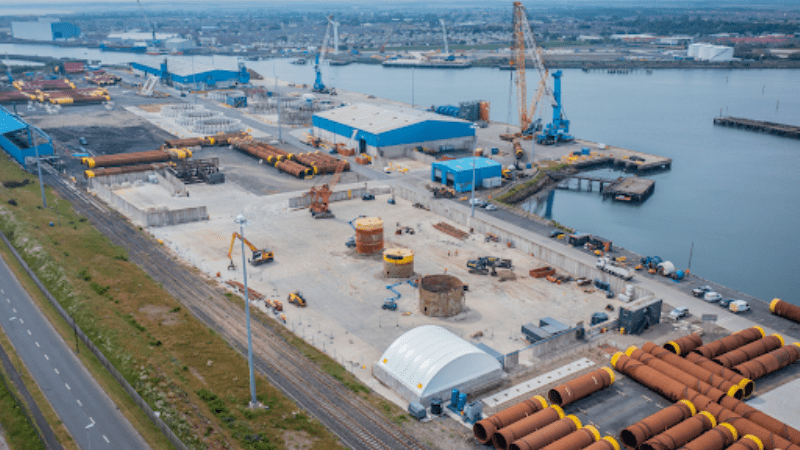 Thompsons of Prudhoe have successfully secured two decommissioning projects, working closely along with Heerema Marine Contractors and DeepOcean.
These two challenging contracts allow Thompsons of Prudhoe to provide a full turnkey dismantling and waste management contract solution to asset owner, Spirit Energy.
The six southern North Sea structures will be delivered into the Battleship Wharf Terminal by Heerema on two large North Sea barges during Q3 2023. The assets will be offloaded and transported using SPMTs to the purpose-built decommissioning facility in collaboration with our decommissioning partner the Port of Blyth and strategic subcontract partner Mammoet. In addition to this, DeepOcean will be recovering the subsea structures, rigid pipelines, flexibles, umbilicals and concrete mattresses and delivering them into the port using a variety of vessels from their versatile fleet.
After being involved in this important project since 2019, Thompsons of Prudhoe are proud to have now been chosen by two of the industry's most recognised contractors to undertake these works. Mark Hill, Bid/Business Development Manager for Thompsons of Prudhoe, said, "We have worked hard over the last two-and-a-half years to establish a compelling and competitive decommissioning service offering. Having secured both, the topside and jacket dismantlement & disposal works for Heerema Marine Contractors, as well as the subsea waste management and disposal works for DeepOcean, is really beyond expectations."
Neil McCulloch, CEO of Spirit Energy and Industry Co-Chair of the Decommissioning and Repurposing Taskforce (DaRT), said, "Spirit Energy continues to create value with our industry-leading decommissioning capability and performance, and we are delighted that Thompsons have been selected, by our contractors, for the safe waste disposal of materials recovered from our assets. This builds on the excellent work that Thompsons have already carried out, at our South Morecambe Terminal, and demonstrates Spirit Energy's ongoing commitment to support the local supply chain."
Thompsons have begun working with all stakeholders including the Environmental Agency (EA) and the Health & Safety Executive (HSE) to successfully deliver these works over the forthcoming months. These recent project successes demonstrate and showcase Thompsons objective to become a trusted decommissioning partner to the oil & gas industry.