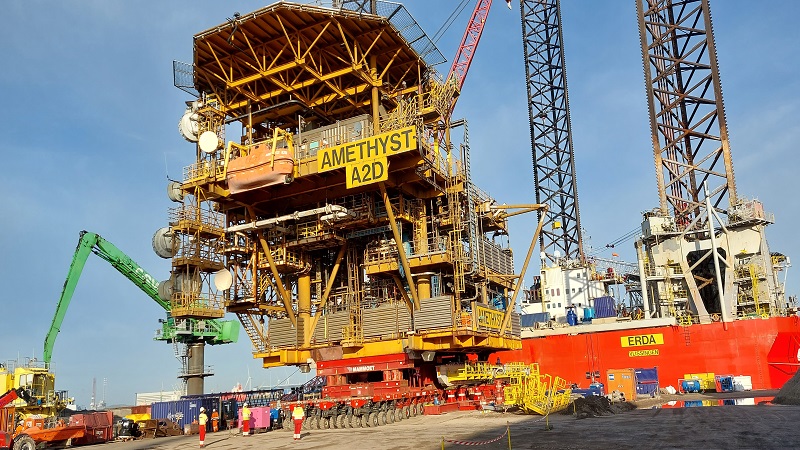 Perenco and Petrodec, a decommissioning services specialist, has announced that the A2D platform topside – located in the Amethyst Field, UKCS – has been safely removed for final dismantling.
The operation was successfully conducted using Petrodec's patented 'skidding' technique deployed by its dedicated jack-up the 'ERDA' in the southern North Sea. With a weight of 1,179 tons, this was the heaviest Amethyst topside to have been removed so far.
The news follows the Hydrocarbon Safe (HCS) Campaign on all platforms and brine flushing of intra-field and export pipelines, the plug and abandon of all platform wells, and the removal of C1D, B1D and A2D topsides with a combined total topsides weight of 2,900 tons. The final operations to remove the topsides and four steel jackets of platform A1D are scheduled from January 2024.
The Amethyst field was one of the later-life assets acquired by Perenco from BP in 2012 as part a package of SNS assets. Perenco subsequently consolidated its position to 100% on Amethyst by acquiring the participating interests of Centrica and Murphy Oil in licences P.005, P.030, P.050 and P.133. Amethyst consisted of four conventional fixed jacket wellhead structures with helipads and cranes installed.
The platforms A1D, A2D, B1D and C1D had six or nine slots, and six or seven producing wells. The field stopped producing in 2020, following which Perenco UK started the application for decommissioning operations in collaboration with Petrodec.
Rainier Verhulst, Petrodec's General Manager, said, "The successful and safe skidding operation to remove the heaviest topside to date exemplifies Petrodec's technical ingenuity as a decommissioning specialist, bringing together the technical expertise of a contractor and the reliability of a decommissioning operator.
"It also clearly highlights Perenco's integrated approach to late-life assets, first extending the production lifespan of assets by operational efficiencies and investment, then developing innovative and fit-for-purpose solutions to safely decommission the facilities. I would like to thank all of those involved."