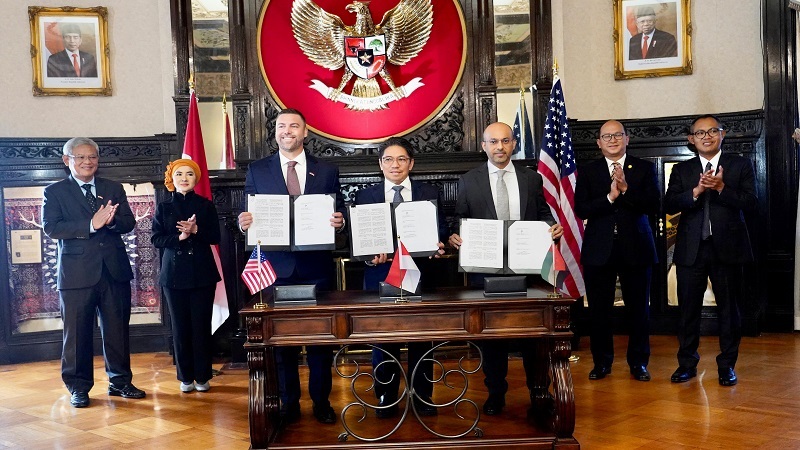 PT Pertamina Geothermal Energy (PGE) has announced its cooperation with Chevron New Energies International (Chevron) and Mubadala Energy to embark on a Joint Study Agreement (JSA) to explore the geothermal potential in Indonesia.
The JSA aims to capitalise on the companies' strengths and experience, namely bringing together PGE's scale as the largest geothermal producing company in Indonesia, Chevron's expansive capabilities as a multinational energy company committed to providing cleaner energy, and Mubadala Energy's record in delivering reliable and efficient energy to the region while playing a continuous active role in the energy transition.
The agreement provides a comprehensive framework to conduct a joint study into developing the Kotamobagu Geothermal Working Area (WKP). The agreement falls in line with the Indonesian government's recent announcement that the region will target an addition of 3.3 GW of installed geothermal capacity by 2030.
President Director of PT Pertamina Geothermal Energy, Julfi Hadi, said, "Our Joint Study Agreement this time aims to utilise the complementary strengths of the three parties in developing geothermal in Kotamobagu."
Wahyu Budiarto, Chevron Indonesia Country Manager, commented, "This is Chevron's fifith collaboration with Pertamina and we are excited about the addition of Mubadala Energy in the Kotamobagu WKP. We look forward to bringing into the partnership Chevron's technical expertise and new geothermal technologies to explore renewable energy resources to support Indonesia's energy transition goals."
Mansoor Mohamed Al Hamed, CEO of Mubadala Energy, concluded, "With our track record of delivering strategic energy resources in Indonesia for over a decade, we are excited about this partnership with PGE and Chevron to explore the expansion of geothermal energy, an important segment of Indonesia's clean energy growth ambitions. The opportunity to explore such projects is embedded in Mubadala Energy's commitment to playing an active role in the energy transition as we continue to support Indonesia's Net Zero targets."