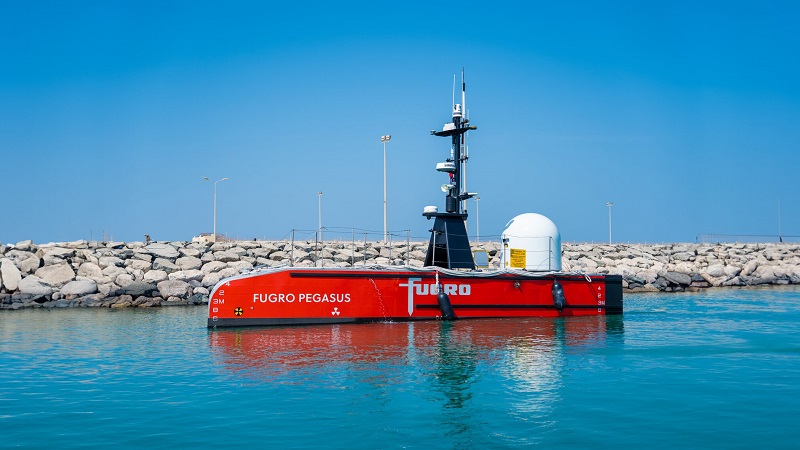 Fugro, a leading geo-data specialist and surveying services company, has completed the Middle East's first remotely operated subsea inspection using a low-carbon emission unscrewed surface vessel (USV).
The company deployed the Fugro Pegasus USV (which is part of the Blue Essence fleet, built by SEA-KIT International) to perform site survey and inspection services on an offshore gas platform offshore UAE for operator Atlantis, ahead of its forthcoming decommissioning programme.
Fugro conducted the operation from its onshore remote operations centre (ROC) in Dubai, using a specialist team of mariners and surveyors to perform the subsea work on the UAQ3 platform within the Umm Al Quwain gas field. The Fugro Pegasus USV was equipped with a Blue Volta electric remotely operated vehicle which was used to inspect the integrity of the platform's structure. It also generated a detailed map of the surrounding seabed.
All of this was streamlined to the ROC where it was reviewed in real-time during the operation. This data enabled the team to identify and investigate areas of further interest in the delivery of a comprehensive risk assessment for the client.
The economical design and optimised fuel systems of the company's USVs eliminate 95% of carbon emissions against conventional vessels. This also allows them to remain at sea for up to two weeks without refuelling.
Patrick Boyce, Drilling Manager at Atlantis (UAQ), commented, "Fugro's remote survey technology aligned seamlessly with our projects HSEQ, technical goals and was the most attractive commercial choice. The Fugro Pegasus was able to mobilise on time and despite difficult sea conditions, it completed the full scope of work in 40% of the allotted time frame. The USV operation was managed by the technical team at the very impressive Fugro ROC. Communications with the USV were strong throughout and provided excellent imaging results. Of particular note was the evident expertise and professionalism of the Fugro team, who have obviously dedicated many months to honing their execution procedures."
Hannes Swiegers, Fugro's Director of IRM Services & Remote Operations for the Middle East and India, surmised, "This is a significant milestone for our Middle East business and demonstrates how novel technologies can play a key part in delivering our clients' long-term safety, sustainability and in-country value ambitions. Together with our clients, we are setting a new standard in geo-data acquisition and analysis through continuous innovation, reducing time, risk and carbon emissions. This new era of remote and autonomous technology will define the future of offshore operations in the energy sector and contribute towards a safer and more sustainable world."